The decorative surfacing with quartz sand scattering
If you want to create a light-fast and non-slip wearing course, KEMPERDUR Quartz Surfacing is the ideal solution. The surfacing is made of KEMPERDUR Deko Transparent and KEMPERDUR Coloured Quartz with a grain size of 0.4 to 0.8 mm.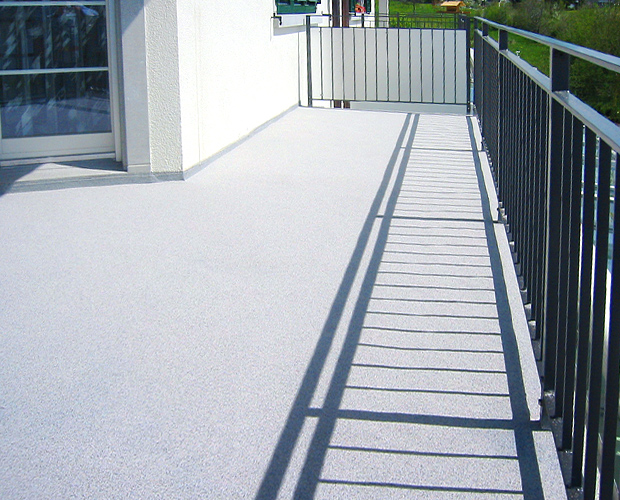 Product benefits of KEMPERDUR Quartz Surfacing
Light-fast
Ensures a vibrant surface finish.
Decorative
Suitable for enhancing the visual appeal.
Non-slip wearing course
Ideal for balconies, (roof-) terraces, pergolas and paths.
Application areas
Non-slip wearing course for balconies, (roof) terraces, covered walkways and paths.
Properties
At +23°C and max. 50% rel. humidity:
rainproof after 3 hours
fully cured after 7 days
Light-fast
UV resistant
Consumption
First layer: 300 g/m² KEMPERDUR Deko Transparent
Scattering: 4 kg/m² KEMPERDUR CQ 0408
Top seal: 400 g/m² KEMPERDUR Deko Transparent
Standard colours
ottled grey, mottled anthracite quartz sand
Pack sizes
25 kg bags KEMPERDUR CQ 0408 Colour Quartz
5 kg container KEMPERDUR Deko Transparent
Approvals
ETA 03/0025, ETA 03/0026, ETA 03/0043, ETA 03/0044
Effective calculation is crucial for success.
There are things that make optimised economic performance easier – our quantity calculator is without doubt one of them. It is so easy: Simply select a product or system structure and specify the size of the surface. And you will be told the exact amount required for the job.
All quantities and times are approximate and without guarantee. For color specifications, absolute RAL match can not be guaranteed.