Durable protection against moisture
Whether you are talking about steep roofs, flat roofs, vaulted cupola roofs, sawtooth roofs, prefabricated wave-shaped roofs, butterfly roofs or hyperbolic paraboloid (hp) shell roofs – what they all have in common is that they need waterproofing. This is definitely a challenge, as we are dealing here with different coefficients of expansion, permanent temperature changes and environmental factors. The good news: The liquid applied waterproofing system KEMPEROL meets all waterproofing requirements and protects the basic structure of the building by delivering durable protection against water damage.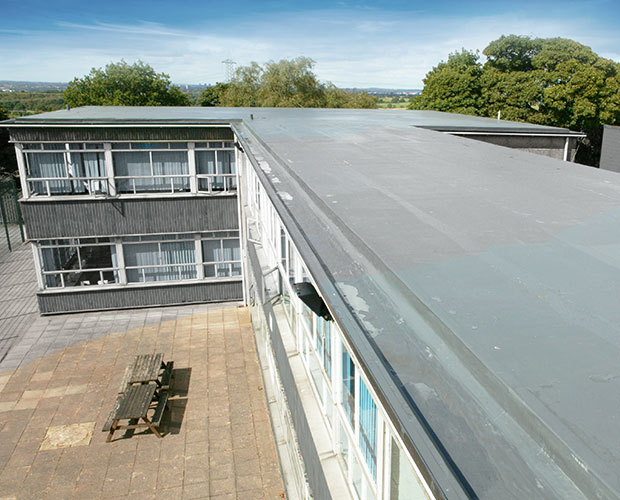 Solvent-free and odourless waterproofing systems
The liquid applied waterproofing system KEMPEROL 2K-PUR is solvent free and odourless and can be applied on flat roofs even when the ventilation system is running. It is also suitable for balconies, indoor areas and sensitive areas such as nurseries, schools and hospitals.
Waterproofing complex details with KEMPEROL
Do you want to waterproof outlet vents, air conditioning systems, gullies, skylight domes and all kinds of complex roof structures? Not a problem, KEMPEROL Waterproofing Systems offer you the simple and safe solution!
Single-component waterproofing systems
KEMPEROL 1K-PUR is ideal for fast use – it is applied straight from the container and no mixing is required. The material is suitable as fleece-reinforced waterproofing for waterproofing both complex details and surfaces on roofs and balconies.
Fast-curing waterproofing systems
KEMPEROL AC Speed and KEMPEROL AC Speed+ literally save you time – since the waterproofed surfaces can be walked on after just 35 minutes and receive the next coat after 60 minutes. Application areas: Roofs, balconies, covered walkways, workshop floors, sales areas, ramps and car parks.
Fall-through and hail protection
KEMPEROL FALLSTOP is tested for fall-through safety according to GS BAU 18. In addition, the coating increases the hail resistance even with built-in skylights - after "hail impact test using ice balls" even by up to three classes. In short: good against ingress of water, good for work safety!
Our roof products
at a glance
All quantities and times are approximate and without guarantee. For color specifications, absolute RAL match can not be guaranteed.